Let the Deer Run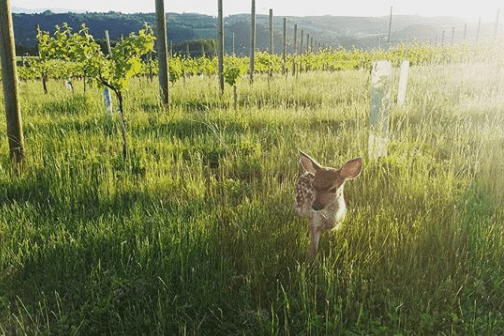 Let the Deer Run
Not all deer encounters in the vineyard are sweet, but this one sure was!


Growing green shoots in the vineyard this time of year are a very tempting snack to our hungry neighbors. To protect the plants, we use high fencing to try and prevent deer and other wildlife from making a meal out of the vines while they are growing. Every now and then, however, we still catch a mom guiltily sneaking by the tasting room window, trying to coax her curious young back out the winery facility opening. Years past, the northern block of our vineyard received it's name from such reoccurring transgressions- though a more honest name might have been "Deer and The Viticulturist Run".

Get a taste of this precious moment with our single-clone Pinot Noir Deer Run 115 wine label.

Tags: Coleman Vineyards, Deer, Grapes, Growing season, Pinot Noir, Spring, Vineyard.