Why I Horde A Lemon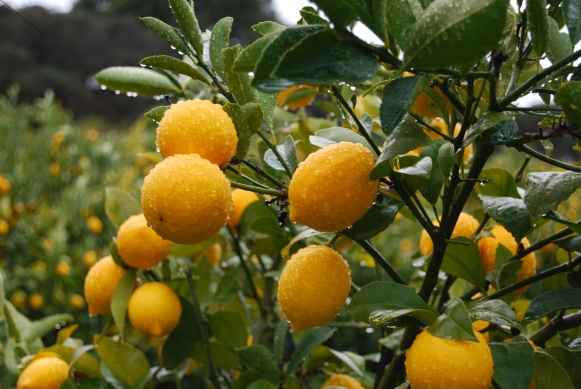 Neighbor Chris of Bellevue Cross Vineyard is a landscape designer from San Diego, amazing cook, amazing gardener, disciplined weeder, and fluent describer of wine flavors as we taste. She is a nurturer of people and plants, and I think, doesn't realize how special are her little gifts.
Last month, she gave me a beautiful little canning jar of meyer preserved lemons that she made from her tree in SoCal. They took me back to my childhood. My paternal grandfather was a feisty little Russian guy who helped build the Hoover dam and the oil refineries in SoCal, but he would sit me on his lap when I was small and call me Duchka (little darling in Russian). Even more amazing for the 1960's in a small backyard in SoCal, he grew a large hydroponic garden under a shaded trellis that took the place of a lawn. Meyer lemon shrubs were as common as palm trees and orange groves. My aunt and the cousins would put salt on those lemons and we'd eat them like kids eat sour candy (sorry dentist Brad, true confession).So this sweet little jar of preserved lemons from neighbor Chris was a patch of home; especially during the grey,cloudy season in the Willamette Valley. Unbeknownst my special offering to them, I take kitchen shears and cut tiny snippets of these preserved lemons when I cook for family and friends. Lemon garnish on the tataki albacore salad I made for husband Randy; lemon ribbons on my friend Jody's favorite fried Brussels sprout leaves. I subtly pair this lemony, salty, sweet garnish with our bright Pinot Gris style from the vineyard. It's a lesson to see how far I can push those sour and salt flavors before the wine pairing hollers back. Besides the great tastes, it is a special nod to my friend Chris, my grandpa Bill, and a quiet gift of special memories to my friends and family.
-Kim Coleman
---
Chris' Preserved Lemons
Start with a couple of pint jars with lids. Sterilize them in dishwasher/boiling water.
Select 8-10 juicy meyer lemons. Scrub them and plunge into boiling water for a minute.
Slice each lemon into quarters but leave stem ends attached (you'll have long slits in the lemon).
Place about a Tablespoon of kosher salt into the slits of each lemon. Press closed.
Stuff them into jars as tightly as possible.
Top off each jar with extra lemon juice and seal the jar. Place jars in a cool cupboard.
In 3 days, open the jars and press the lemons to release some juice. Add more juice to top, then reseal the jars.
Place in a cool dry place for up to a month. I keep mine in the refrigerator for up to 3 months. They are ready in a few days but the flavor is better when left longer.
To use, discard pulp and rinse away salt if you prefer. The lemon peel is ready to slice or chop and enjoy in many dishes.
---
Tags: Coleman Vineyards, Pinot Gris, Recipe, Wine.